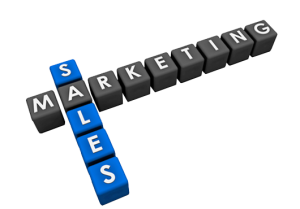 Alignment between marketing and sales pays off: it generates more new clients with fewer leads, more turnover and better client retention. It is with good reason that we hear more and more often that a good relationship between marketing and sales is essential. This is all possible, but how do you make sure there is mutual understanding and good cooperation between marketing and sales?
To get an answer to this question Shimon Ben-Ayoun (Managing Partner spotONvision) interviewed Meagen Eisenberg. Meagen works as Vice President of Demand Generation at DocuSign in the US.
The key to a good relationship
"Often there is a disconnection between marketing and sales and this is such a pity", says Meagen. Because of a difficult cooperation between marketing and sales, too few leads are turned into paying customers. And it is not that difficult to create a good cooperation between both parties.
Meagen speaks about three simple action points for the B2B marketer that contribute to a good alignment between marketing and sales:
1. Use sales input. Use sales input for the marketing activities. Talk to sales and be open to ideas that they have. Subsequently, implement them in your marketing activities. In short: let sales people think with you.
2. Share your results. Also, always share the results of your tools and campaigns that you use. Show the sales department which tool or campaign is not working and which is working. This way you involve the sales department with your activities and they will understand why a certain activity is not used anymore and which is used more often.
3. Communicate continuously. Talk to the sales people all the time and not only about the results. By communicating you know what is going on in the sales department and which issues they are dealing with.
Meagen: "Every week we send an internal mail to the sales department called 'SalesFlash'. It says which events and webinars are on the agenda and we invite them to these. This way we want to increase the engagement of the sales department with our marketing activities. And this works!"
Listening is essential
Listening well to each other is the basis of a good relationship between marketing and sales.  But listening well to each other has an other big advantage: "By talking to the sales people you can get valuable information about your leads, prospects and paying customers. Because they are in direct contact with (potential) buyers they know very well which challenges they have and what information they would like to receive. This information we then take to creating our content and campaigns."
Meagen has plenty of experience not only in improving the relationship between marketing and sales but she is also an expert in the field of nurturing campaigns. In my next blog I go into what it takes to make a good nurturing campaign. Don't miss it!
PS we can learn a lot from Meagen Eisenberg. That is why we are happy that she is one of the speakers at the fifth edition of the B2B Marketing Forum on March 13. Make sure you will be there and register now!