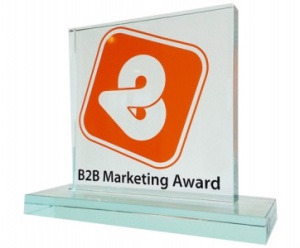 – Canon Nederland, DSM Engineering Plastics and Philips Lighting on stage on 13 March –
The B2B Marketing Award will be handed out during the B2B Marketing Forum in Utrecht on 13 March. An expert jury has disclosed which three B2B cases have a chance to win this award.
The nominees in short:
Canon Nederland wanted to map out a new proposition with their relations, their own clients and suppliers. They did this with 20 multi-channel events. From their objective they go through the process in steps in which they make the end result visible.
With nominee DSM Engineering Plastics the integrated approach is central. The DSM story focuses on specific clients and target groups where the goal is to create a preference for DSM. For this they use the necessary channels in which an app is central in the effect of the concept.
Philips Lighting uses the newly opened Rijksmuseum as a showcase to promote LED lighting. Philips uses an 'outside-in' approach and lets others tell the story.
The nominees have been chosen by a jury consisting of Ment Kuiper who is active in marketing support and training, Truus Koppelaar, AFAS Software and Tristan Lavender, Deloitte.
Jury chairman Ment Kuiper: "It is good that we have found a way to put B2B cases in the spotlight. We are aware that especially large, well-known companies are in the final, whereas small players from the B2B sector have participated as well. Participation is really appreciated and that is why the jury, together with spotONvision and Beeckestijn Business School, has started an initiative to assist candidates with building a B2B case in all facets – from index to presentation. All participants will get an invitation to a master class."
The three candidates are on stage on 13 March in 'DeFabrique' – live! They will battle during the B2B Marketing Forum. The audience and the jury determine together who wins. Does one of your finalists have your preference already? Please apply at https://www.b2bmarketingforum.nl/en/. Here you will find all information about the B2B Marketing Forum.
About the B2B Marketing Award
In 2010 B2B marketing agency spotONvision introduced the B2B Marketing Award in The Netherlands. Main reason was to get more attention for B2B marketing in our country. At the same time there was a strong need to exchange good example cases and experience in business-to-business.