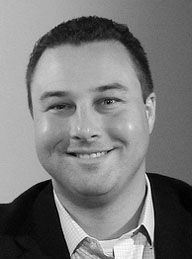 US based Hubspot has a miraculous growth story. Starting with 5 people 4 years ago they have grown to 200 people completely focused on B2B marketing. Growth that was only possible through their focus on inbound marketing. Now the company can look back on over half a million inbound leads over the last 4 years. For VP Marketing at Hubspot Mike Volpe, it has been a roller coaster ride.
When Hubspot started, the company focused on inbound marketing from the very beginning. To Volpe this is marketing that does not interrupt or disturb the potential customers you want to attract. Think of blogs, webinars, social media outreach, anything that does not invade the personal space of a customer like for instance TV ads do.
Volpe is in that sense agreeing with Seth Godin: "Permission marketing is the privilege (not the right) of delivering anticipated, personal and relevant messages to people who actually want to get them. It recognizes the new power of the best consumers to ignore marketing. It realizes that treating people with respect is the best way to earn their attention."
"People don't think inbound leads can form the majority of their business. We have proven that wrong. We have seen that inbound leads usually are more qualitative and also offer a better conversion rate. Of course I understand it will be hard for people to sell this new way of B2B marketing to their management but initial success will help persuade them to rethink marketing techniques", said Volpe in an interview with spotONvision.
At the B2B Marketing Forum on 15th March Mike Volpe will speak about the benefits of inbound marketing. He will also focus on the ideal structure of the modern marketing department and what skills are required from marketing staff to become pros in inbound marketing.
To find the full article in Dutch, please go to Marketingfacts.