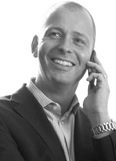 IBM interviewed over 1700 CMOs worldwide to see what they are struggling with in the current marketing climate. The main finding? We're rabbits trapped in the headlights. We cannot get into dialogue with our clients, we have no view on the effects of our marketing spending and we cannot really see where improvement in our outreach lies. This does not sound very promising, however Head of Marketing Benelux at IBM, Ronald Velten, sees opportunities. Velten will be discussing the outcome of the worldwide CMO study during the B2B Marketing Forum on 20 March.
SpotONvision interviewed Velten on the findings from interviewing Benelux based CMO's. In the Benelux the challenges are pretty much the same as the worldwide dilemmas CMOs face. The three biggest threats are:
Data explosion: too much customer data has rendered us clueless of what we need to use and what is really important to measure and use
Social media: how to use it, when to use it and why do we use it.
Customer alignment: how do we make our customer the true centre of our marketing.
It is not surprising that Velten wants us to change. "We need to change, we need to start engaging. Figure out who the buyer personas are, get to know your client. There is still too much focus on the transaction and not enough focus on the client experience. There is still too much marketing being done from behind the desktop. We need to get out there.". At IBM they live by the triple A of marketing:
Ambition: the willingness to grow
Attitude: get out there to start engaging
Personal accountability: claim success but also claim failure
Ronald Velten will share more in depth findings of the CMO study during the B2B Marketing forum. He will also demonstrate best and worst practices of their own endeavour to change to a more client focussed organisation. Curious to hear more?