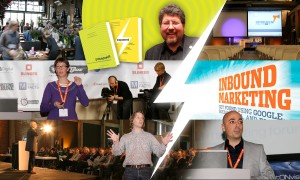 Do you want to be a part of the Dutch B2B marketing community. Below you'll find 10 reasons why you just cannot miss this event on 20 March.
Experience how to stop marketing and start real relationships with prospects and clients
Results of the one and only B2B Marketing Barometer 2012 in the Netherlands by TNS NIPO and spotONvision
The gift of practical marketing tips, coaching, hands-on sessions and networking with hundreds of 'colleagues'
Engage with everything on the latest trends in social media, inbound and content marketing in B2B
Vote for the winners of the NIMA B2B AWARD 2012
Keynote speakers Scott Stratten, social media guru and author of  'Unmarketing | Stop Marketing Start Engaging' and Steven van Belleghem, author of 'The Conversation Company | 'Really use your clients feedback'
Expert speakers Tim Barker – Salesforce.com, Kors van Wijngaarden en Patrick Filius – Philips, Ingrid Archer – spotONvision, Reg van Steen – TNS NIPO, Ronald Velten – IBM, Todd Wheatland – Kelly Services
Entertainment and the expertise of the hosts Rutger Mollee – Comedian and communications advisor and Yvonne van Bokhoven – LEWIS PR
Lunch and Learn small sized lunch sessions with a B2B subject of your choice
Talk to a coach: face to face and 1:1 with a B2B marketing expert
Date and location: 20 March 2012 – Westergasfabriek – Amsterdam
Investment: €595 (ex. VAT) for a day brimming with inspiration, knowledge, coaching, networking. including lunch and drinks and a personal copy of the Dutch B2B Marketing Barometer report. Group discount possible. The forum is worth PE-points.