Zojuist verschenen: Business Buyer Insights 2013
14 maart 2013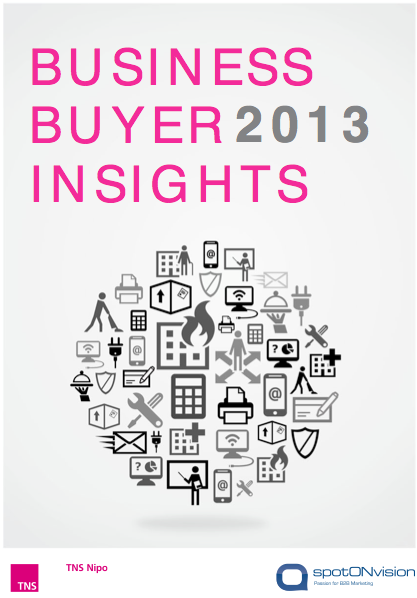 Vandaag, tijdens het B2B Marketing Forum in Amsterdam, presenteren we het rapport Business Buyer Insights 2013 van spotONvision en TNS-NIPO.
Voor B2B marketeers is het niet altijd even gemakkelijk om de koper en klant te begrijpen. "Waarom is iemand nu wel of niet geïnteresseerd in mijn product of dienst? Hoe kan ik mijn doelgroep het beste bereiken? Hoe stem ik mijn marketing nu echt af op mijn koper? En, hoe zorg ik voor het optimale rendement en engagement met mijn marketingkeuzes?"
In het survey brengen we koopgedrag in kaart van business kopers en daarbij hebben we gekeken naar 18 categorieën. We onderzochten wat kopers deden tijdens het koopproces, hoe ze afwegingen en keuzes maakten.
Download nu Business Buyer Insights 2013
---