"How often do you really listen to your customer?"
11 February 2015
In the past five years DHL Express invested heavily in their focus on the customer and in redesigning the organisation in a customer-centric manner. Now this focus has become a culture, a way of life, and all employees – no matter which position – adhere and contribute to this. How did they put this together? spotONvision spoke with Hein Roovers; marketing director of DHL Express in The Netherlands.
A turnabout: more focus on the customer
If you think of logistics, you think of DHL. The yellow delivery vans are renowned all over the world. But this is just a fraction of the services DHL has to offer. They are also leading in supply chain management, e-commerce and freight transport. Hein Roovers talks about DHL with true pride: "It is a wonderful company, strong and with a clear mission. We always have had a strong foundation, a winning business concept, but we needed to make a higher profit to allow for more investments in our services for our customers. A distinct strategy and more focus. We welcomed a stronger new leader: Ken Allen. His motto is 'from good to great'. Now all DHL Express employees contribute to this mission in a meaningful manner."
Which track did DHL choose and what has been the result?
"Five years ago we launched our new strategy, which remains the same today. It has brought DHL substantial results. The profits margins have been increasing annually, customer satisfaction is continuously higher than the competition, and that in these economically difficult times."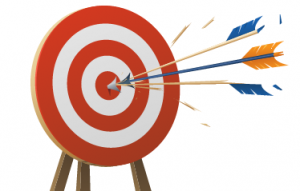 The four pillars of the strategy:
Motivated employees are the starting point that leads to:
Excellent quality of services delivered, which leads to:
Loyal customers; which in turn lead to:
Profitability, which allows us to continue investing
How was the customer focus strategy implemented?
"To begin at the beginning: by motivating employees. Not only the marketing department, but all DHL employees know that it is all about the customer. Everyone acts in this manner, not just the departments who directly interact with our customers. A cultural program was set up and implemented worldwide and for all organisational layers. This means that everybody understands what customer-focus means for his or her work. All DHL-employees have been trained as Certified International Specialists, and as proof of their expertise and pride they hold a passport to express this. Everyone who joins DHL follows this extensive program and during their career they continue to follow additional modules. It is really a DHL-thing: the higher management trains middle-management who then trains the next layer. No external coaches, but management as an example so that the culture follows through to the work floor."
'Excellent quality': we've heard that before; how does DHL put this in action?
Hein continues: "For us excellent quality is not only a marketing term. Many companies say that they are all about customer wishes, but how often do you actually call up your customer and ask what he/she thought of the services delivered? DHL does do that. Every week we call hundreds of customers to monitor customer satisfaction. Is there an idea for improving our services? Then the manager of the department responsible will call the customer, reconsider the processes and take action to improve these. Continuous improvement. Our employees understand that every day they have the chance to really help a customer. At DHL we say 'have a best day, every day'. And it works. Steps 3 and 4 follow almost automatically."
What will you discuss during the B2B Marketing Forum?
"I want to talk about why this focused customer strategy worked for DHL. That is based on a number of things. First of all: strong pillars and a continuous approach over the years. Secondly, involvement and understanding from all employees. Thirdly, really listening to our customer, regular contact with them throughout the whole organisation and then actually putting their input to work. So if you want to hear more about this, then please join us. I love to share our experiences. We should have done it much sooner."
Do you want to hear more about Hein's story?
---