Lunch & Learn!
14 March 2011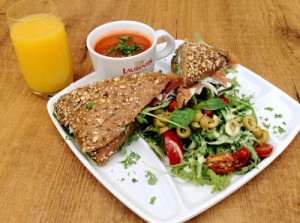 Join us for our interactive lunch & learn workshops. Between 12.35 and 13.30 in less than an hour you will learn more about online video, telemarketing, content marketing and mobile marketing.
Online Video – Niche TV by Nico Verspaget and Ronnie Overgoor (Quadia Web TV)
Find out how to start your own niche TV channel and what opportunities this might have in store for you.
Telemarketing by Olivier Arnolds (New Market Consultants)
How valuable is telemarketing when everyone seems to focus on social media marketing? Is it still a valuable tool in your marketing mix? Join Olivier Arnolds to discuss.
Content in your marketing – how? By Ingrid Archer (spotONvision)
Want to know how to create good and relevant content for your marketing mix? Join this lunch and learn session and you'll know.
Mobile marketing by Stephan Reesink (B!Digital)
How can mobile marketing and social media marketing add to the ideal B2B marketing mix? Join Stephan Reesink and find out.
---