Lunch & Learn at the B2B Marketing Forum
12 March 2012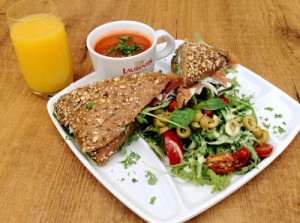 Let's not kid ourselves: if you go to a seminar you want to actually learn something. Sure, being away from the boss is nice but you want to come back inspired and excited to start new things. We bet this will happen if you attend one of the Lunch & Learn sessions at the B2B Marketing Forum on the 20th March in the Westergasfabriek in Amsterdam.
What is it?
You get your lunch and join one of the tables of our experts. Together with other people from the field you will discuss either online video, the power of webinars or the new B2B Expert Platform. One lets you co-create a new platform while others are open for questions and discussion. What's not to love?
A quick rundown of what we are doing:
Online video – Shoot
Nico Verspaget of Quadia Web TV will discuss how online video can help B2B organization. You can ask generic questions but we're also open for specific problems. Together we will look into possibilities and we might even be able to start a plan for you specific issue.
The power of webinars – question extravaganza

Hosting a webinar is not as hard as you might think. Small effort, big ROI. Don't believe us? Well, this session is just perfect for you. Marco Wesseling of Citrixonline and Ingrid Archer of spotONvision are here to answer any question you might have on webinars whether it is about ROI or the technology behind it. You ask, they answer.
B2B Expert Platform
spotONvision and NIMA will be building on the successful B2B Marketing Forum. We would like to hear from you what you expect and want from a B2B Expert Platform. Join this huge brainstorm and maybe your idea will be featured in this years pilot.
There is no need to register. Just come to the Westerliefde and grab a seat. You will be inspired.
---