Looking back on 'The Great Journey'
22 March 2013
We would like to thank you for your participation and enthusiasm at the B2B Marketing Forum on March 14th. We look back on a great day with many marketers, sales & communications professionals, journalists, bloggers and other supporters!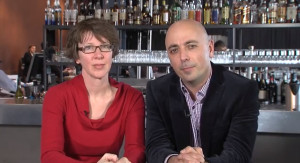 Click on the image above to view the video.
Founders Shimon Ben Ayoun and Ingrid Archer made a short thank you video.
The pictures of the event are available on our Flickr account. You can view them here.
You can now find a video summary of the B2B Marketing Forum online. During the day, there were also multiple interviews with speakers. You can view these interviews on our Youtube channel.
All presentations can be found online on Slideshare.
You can also find the B2B Business Buyer Insights 2013 online as a free download. This research has been done by TNS NIPO and spotONvision. It primarily focusses on the methods used by business buyers to find a specific or certain provider. The report is written in English.
Edition 2014
Do you want to contribute? Any good ideas or questions? Contact us now, it's never too early to start.. We hope to see you again next year! info@b2bmarketingforum.nl
---