Introducing: A new B2B-marketing conference experience for 2013
14 January 2013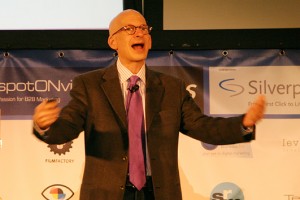 Just Imagine your ideal marketing conference where……
You would be inspired by great speakers, learn from successful case studies, be trained in new marketing skills,
You can participate in round table discussions with your peers and experts,
You can network with other B2B marketers all day, face-to-face and online.
…..and all that in just one day!
Stop imagining and join us at our next B2B Marketing Forum. We have combined all of the above to make your conference experience, truly unforgettable. Just like you we are always trying to improve.  Based on your feedback and our research, we have adapted this year's B2B Marketing Forum format and programme.
The B2B Marketing Forum, taking place on 14th March 2013, will include a mix of traditional items that we adapted and new concepts:
Keynotes – Why only have one! Our keynote sessions are designed to inspire and interact with the audience. Instead of using a typical presentation format, the keynote will be presented in a talk show format. So who better to be the host than Pep Rosenfeld, well known for a very successful career with Boom Chicago and  , his sharpness, humour and high-energy. Pep will challenge the keynote speakers with some questions from the audience. Our main keynotes: Nick Southgate (Expert on B2B Buyer Behavioural Economics), Meta Karagianni, (Head of CMO research at SiriusDecisions) and returning by popular demand, Mike Volpe (CMO at Hubspot).
.
Case studies – We have refreshed the way case studies will be presented. We will bring you some very successful and real-world case studies throughout the day in 2 major tracks: B2B strategy and buyer insights and lead management. Senior speakers will present these cases. You will meet speakers such as Alex Ballering (NXP Semiconductors), Pamela Pauwels (Philips Healthcare), David Dorling (Swiss Post Solutions), Roel Haanappel (Unit4), and many more.
.
Master class – We all want to learn new practices and methods that help us improve the way we market. This year we are integrating in-depth training into the conference. As forum organizer, spotONvision will offer a power class: 'The Journey from Lead to Customer'. This master class will cover three topics: content marketing, lead management and marketing automation.
.
Round Table Discussions – Interaction is extremely important to all our participants. For each timeslot, two round tables will be available for marketers to discuss various topics, share views and learn from each other. All of this under the guidance of an experienced chairman.
.
Networking onsite online – This may be the most important reason for people to attend events like the B2B Marketing Forum. Networking opportunities will be facilitated throughout the day and social networking will be made available with a great app called Bizzabo. This free app will help you connect, network and stay in contact with other visitors. Before, during and after the Forum.
.
Sharing – Twitter channels such as #b2bnl will be available for people to learn from comments and provide their own insights or questions about different topics.
The B2B Marketing Forum will empower and inspire B2B marketers. The forum is organized for those who are eager to develop their knowledge and achieve better results in their marketing. It's a place where marketers can learn from other cases, improve their marketing skills, interact and last but not least, network with fellow B2B marketing peers.
Now that's what I call an excellent conference experience.
If you have some more ideas that we could incorporate into the programme, let us know.
---