[Interview] 'Global campaigns with regional impact'
10 March 2015
Developing global integrated customer centric campaigns is a huge challenge. It's important to balance between an overall global plan and regional tweaking in order to achieve the desired results. It's the strength of a consistent worldwide approach against the necessity to understand and value local insights. How can this be realised in a customer-centric manner if customer wishes vary per region? Shelby Torrence, from spotONvision gives us a run-down on the do's and don'ts of global campaigning.
Shelby followed a cross-boundary career track: she made her mark with integrated customer-centric campaigns in the US, Spain and has now settled in the Netherlands. On 17 March Shelby will explain the ins and outs of global campaigning. First read more about what you can learn at her session.
Measure results and steer the campaign
Designing a global customer-centric campaign entails a myriad of challenges. The goal is to develop and launch an integrated worldwide approach, yet there must be the realisation that what works for one region may not pay off in another. The key lies in making a global plan with a range of activities and components, but with flexibility to adapt at the regional or country level. Shelby: "When working with different regions it's so important to measure what the channels and tools are doing for your leads and sales pipeline. Ask your customers for feedback. Interact with them and find out their needs. And adapt the campaign based on these insights. An example is a competitive campaign I once worked on for the hardware industry. We targeted – via e-mail – a competitor's client group but the response was very poor and our click-through rates lagged far behind. We changed our strategy and got our outbound sales forces calling the prospects: what did they think of the e-mail and the offer made? Turned out that we just weren't top of mind but once we attracted attention to ourselves we became an interesting supplier. In this competitive market it proved that we needed a more aggressive approach. By monitoring results and acting adequately upon them we still realized a successful campaign with the content and propositions we initially developed. The adaptability during the ongoing campaign means you need to start with a clear and convincing campaign plan in order to gain support of internal stakeholders but always have in your back-pocket contingency plans if results take an unexpected turn."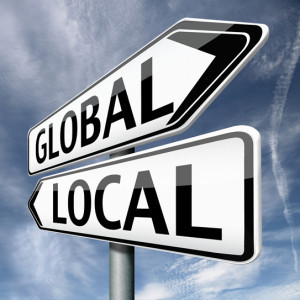 First local pilot, then global launch
Another important issue is finding a balance between a global approach and local flavors. A global campaign uses multiple channels to carry a cross-border message. Sometime regions can be hesitant to try new activities or channels. Shelby: "From experience I have learned the importance of understanding a region's perspective. Yet I verify their findings and gather my own market information. By being submerged in a certain matter you can miss new insights and opportunities, causing unnecessary reluctance to explore new marketing activities. That's why I entice them to try a new approach. And that's where the monitoring and measuring comes in again. If it works: keep going. If not: adapt. For large campaigns we first pilot the approach in one or two countries. The trick here is to choose one or two regions that are representative to the whole and that differ greatly from one another. From there move to a global launch."
Is B2B ready for customer-centric global campaigns?
The urgency of a shift towards customer-centricity has landed in B2B. Now the question seems to be how this should be done. Shelby: "B2B is really starting to understand the need to be more customer-centric on a global level, but I still see companies struggling with how to do this." The underlying reasons for this are:
B2B needs to further develop monitoring and measuring skills. Not all marketing activities bring revenue to each region. By measuring results throughout the pipeline, additional efforts can be put in place where needed.
B2B needs to be more responsive to customers' questions. A successful global campaign is about answering critical questions and not about promoting your product.
Marketing needs to claim their role in customer relationships more prominently. Speaking directly to the customer and gathering their feedback isn't exclusive to the salesforce or customer service team. Marketing needs this direct interaction as well and should work with sales to acquire direct contact with their customers.
Keep learning
Shelby's message is clear: "Keep learning. When you start a campaign you must realize that you may not be successful in all regions, with all activities. If you monitor and measure results, you can steer your strategy and reach the goals you initially set."
Want to learn more about integrated global customer-centric campaigns? Understand which tangible steps can be taken to develop a successful customer campaign blueprint that is repeatable and adaptable? Don't miss out on Shelby's session on March 17th.
---