free LIVE B2B Marketing Webinar: Keys to Customer Engagement
1 February 2011
Building Dialogues around Customer Insight and Highly Relevant Content.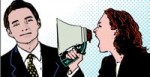 Today, to be successful, marketers must treat each and every customer or prospect as a unique individual. But even though many marketing campaigns are high on creativity, they're often low on personalisation, segmentation and automation.
Too many marketers simply divide email lists into two or three segments based on certain basic attributes like opens and clicks or gender and geography. Perhaps they're using this "one-size-fits-most" strategy because they either fail to gather customer and prospect insights or struggle to find the best way to leverage all the data they do compile.
With the B2B Marketing Forum of March 15th coming up, spotONvision is organizing a series of free B2B marketing webinars. On Friday February 25th we would like to introduce guest speaker Richard Evans from Silverpop.
By implementing some tried-and-true contact management and marketing automation techniques, marketers can distribute truly engaging content that is carefully targeted and highly relevant—content that turns potential customers into paying customers and even lifelong fans.
This spotONvision B2B marketing webinar will explore specific tactics that can help marketers reach a higher level of engagement, including:
·         Gathering Customer Data—Then Using It
·         Developing Content that Leads to a Dialogue
·         Nurturing Consumers from Perusal to Purchase and Beyond
·         Communicating Over the Right Channels at the Right Time
The session will be held in English.
---