Breakfast for B2B Game Changers
7 March 2019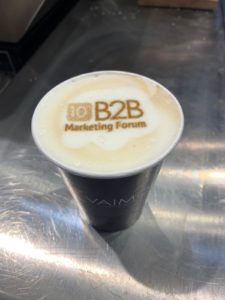 While Ikea no longer offers the one-Euro breakfast this year, we at the B2B Marketing Forum still offer our free breakfast to all participants. We would like to give you the chance to start networking before we kick off the day programme, and above all we want you to beat the traffic jams. We will serve our Breakfast for B2B Game Changers from 8:30 am onwards.
During breakfast you can meet new people or talk to colleagues in an informal setting. Do you want to have breakfast with B2B marketing, sales and communication professionals? Register now.
Morning dew on the grass, the sun is rising, and you are beating the traffic jams and starting your day. With a beautiful view of one of the lakes of the Maarsseveensche Plassen you are welcomed by the B2B team.
While you're sipping your coffee and enjoying fresh rolls, you can meet other B2B passionates and exchange ideas. Great moment to do a final check on the programme, speakers, case studies and masterclasses. And important to remember, breakfast is the most important meal of the day.
Join us early on 19th March at the B2B Marketing Forum in Maarssen.
---