Benefit from great marketing thinkers at the Forum
20 February 2019
Interview with Michael Diederich, host & co-creator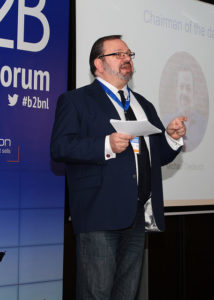 In the past 2 years chairman of the day Michael Diederich hosted the B2B Marketing Forum. Each year he blew the audience away with his enthusiasm and humour. And he actually turned out to be one of the most popular 'speakers' of the Forum. As we are organizing the 10th anniversary of the B2B Marketing we decided to invite Michael once more; never change a winning team!
Tapping into the world of B2B Game Changers
Michael uses the art of improvisation and is not just a host, he will host, speak and entertain. We asked Michael about his role at the Forum this year and what the audience can expect on March 19th in Maarssen:
"By moderating the Forum this year I hope to take the audience along a great journey of marketing learnings. It's an honour to work with the founders of the Forum again, Shimon Ben Ayoun and Ingrid Archer."
Michael will be on stage with best-selling author Tiffani Bova from Salesforce and entertrainer Richard de Hoop. He will be tapping into the world of B2B marketing and its game changers and he will be hosting the B2B Young Talent Award. Michael elaborates:
"I am proud to be involved in the programme of the B2B Marketing Forum. The past editions gave me great ideas to pick as the day is all about learning. Accompanied by a great team, this year is all about making marketing learnings actionable."
We need to move from 'knowledge' to 'action'
The marketing game is changing rapidly. Something we all agree on. However, according to Michael, it is all about 'action': "We need to go from having the knowledge, knowing how to change, to action. Companies are dying instantly these days as they are marketing themselves."
As a well-known actor, improvisor and lecturer, Michael will point out our own weaknesses during interactive breaks on the day of Forum. He brings B2B Marketing into action, in a fun and festive atmosphere.
Michael teaches workshops on presentational skills and teambuilding to top level companies around Europe. He is an excellent Master of Ceremonies and booked on a regular basis as host for events such as the Mobile Convention in Amsterdam and company events such as Pepsico, Kraft Foods, ABN AMRO, Norton Rose and the Expat Center Amsterdam.
Michael was a Boom Chicago cast member for years. He performed in Boom Chicago's 350 seat theatre in Amsterdam several nights a week.
---