B2B Marketing Award 2018: AFAS Software and Holla Advocaten nominated
19 February 2018
On March 15th during the B2B Marketing Forum the two finalists, AFAS Software and Holla Advocaten, will battle for the B2B Marketing Award 2018. B2B Marketing Forum is organizing this unique B2B Marketing Award in the Netherlands. Last year the winner of the B2B Marketing Award was successful B2B company ServiceNow.
AFAS B2B Marketing case: How to reach one of your important client-DMU's and increase engagement?
In this nominated campaign software provider AFAS puts the customer in the centre. Goal of the campaign is to reach this new target audience and strengthen the relationship by using unique content.
The jury about the case: "The AFAS-story is a great and complete B2B business case. The entire organization was involved in the implemented strategy."
Holla Advocaten with its brand campaign #dekoplopers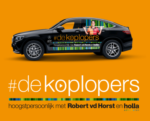 This law firm based in the South of the Netherlands wants to strengthen its brand and brand awareness in a new region of the country. In an original video campaign, they present stories and interview with successful business leaders.
The jury about the case: "With its #dekoplopers campaign Holla Advocaten displays a great and creative multichannel case with clear targets and results."
About the B2B Marketing Award jury
These finalists were chosen by a jury of seasoned marketing professionals chaired by Ment Kuiper, director CustomerTalk, Nord van de Mosselaer, Demand Generation Manager B2B at Tele2 Netherlands, Jan van Ginkel, Publisher Management Team at MT Mediagroep and Cathelijne Quarré- Bijleveld, Director of Field marketing at Snow Software.
Award pitches on 15th March 2018
The two finalists will be on stage during the B2B Marketing Forum in Santpoort, The Netherlands on March 15th – live! – The audience and jury together will have the final say. Don't miss this Grand Finale.
---