Account-based marketing guru, Christopher Engman: "It's all about closing mega deals"
13 March 2017
By Ingrid Archer & Hans Snel, with special thanks to Christopher Engman.
For Dutch version see website B2B Marketeers.
"Some junior sales people think: 'I had a meeting with KLM and they were not interested.' As if KLM is one person. It is 7.000 persons and they all have different views."
 We are talking to Christopher Engman, CMO of Climeon, world leader in converting low temperature waste heat into energy. Engman has followed an impressive career path, both on the selling and purchasing side of complex IT solutions. During his career, he has faced obstacles such as internal politics, parallel stakeholders, and various agendas.
He believes that influencing people through both sales and marketing makes one more successful in the game of bigger deals. This idea brought him to start Vendemore, an ABM solution company. Vendemore developed itself to be a world leader in account-based marketing solutions. After a recent career move to Climeon, Engman practices ABM on a daily basis and continues learning more about mega deals.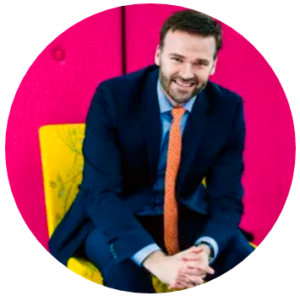 "Most companies pay too little attention to their top accounts"
Engman is passionate about mega deals and will publish a book about the subject this upcoming fall. Mega deals are about combining sales and marketing techniques. Companies that sell complex solutions can be far more successful: "A lot of companies have, for instance, 17 accounts representing half of their total revenue and 2,000 accounts representing the other half. Despite this clear division of revenue, they still run the same kind of marketing campaigns, the same e-mail shots to all. They simply pay too little attention to their top accounts and too much attention to the long tail".
Engman speaks with professionals that close deals on the multi-billion dollar level
"Many marketers focus on leads and only on the top of the funnel. By the time sales takes over, marketing says: 'Okay, we have done our job'. When you work on big deals however, it is not the lead generation that is most expensive, but driving leads from a first meeting to a deal of maybe ten, fifty, hundred million dollars".
ABM has become even more important
Two weeks ago, we published a blog on LinkedIn about the visit of Engman to the Netherlands. One of the readers asked about the difference between ABM and key account management. Engman describes ABM as: "the marketing equivalent of key account management on the sales side. I sometimes call it key account marketing."
ABM is especially important for B2B companies working on larger deals. "The increased number of stakeholders one has to influence makes it more challenging. Sales struggles to meet with all the stakeholders and many reject invitations to meet with them. This has become increasingly difficult in the past years with the solutions vs. product-selling trend and the managed-service trend, which has made the buying community larger." That is where marketing can assist.
"A kind of online lobbying"
Engman also talks much about IT. We asked him how IT could support ABM. "Let's say IBM is trying to get a big deal with KLM. To close this deal you have to involve people of the finance department, people designing the trips, the IT department, and maybe some C-level people. That is tricky to handle for sales people. But what if all these stakeholders are confronted with articles, videos, and ads of IBM, completely relevant to an airline and to the initiative IBM is discussing with KLM? It is a kind of online lobbying." That is the innovation Engman made nine years ago with Vendemore – making use of the IP addresses of companies.
ABM is showing a high ROI
Engman is not surprised about the popularity of ABM these days. It is the marketing category that shows the highest return on investment. You target companies that are big today and can be bigger, or accounts that show great promise and can become big, instead of wasting many resources on multiple or small accounts: "For a few thousand euros per target account you can be super visible, you can be like Ahold into, for instance, the KLM account, talking entirely about what is relevant for an airline and really influencing people to think what you want them to think."
When constructing mega deals it is critical to engage the customer to understand that they need to change, they need to reach a consensus around the change and a trust around the move and around you as a vendor. ABM is stimulating consensus on change and building trust, which are aspects that are increasingly difficult to reach by only sales people.
A/B-tests will show the difference
The ROI is much higher with ABM, although the pay-off will not be visible the next day. Engman explains: "If you have 50 accounts that are important, you can target 25 of them with ABM and use the other 25 as a control group. Over time you will start to see the differences, including the financial effects."
ABM facilitates marketing & sales alignment
Another reason for the popularity of ABM is linked to marketing and sales alignment. This is much easier with ABM than with traditional marketing automation programs: "You might see more leads with marketing automation, but not from the right accounts". In fact, there is no hand-over, but real integration. Key account managers get excited once they understand that the ABM-program is entirely focused on their top accounts, and that they can influence what is shown and to which account. This is very different from many traditional marketing activities.
Two big mistakes most companies make
The biggest mistake is starting with a large list of accounts in combination with small budgets. You will not see any effect. The second mistake is starting with insignificant accounts in fear of risking the best accounts. Engman sees no risk in starting with ABM. He advises to start with the top salesperson and the best accounts. "The best salesperson is an internal rock star. When you start with him/her, the rest will easily follow".
"We are ready to buy"
At Climeon, Engman started with the top salesperson and the top seven accounts. They are in the process of adding the next five top salespersons to their top accounts.  Besides their existing accounts, prospects and suspects also undergo A/B testing at Climeon. They recently started, but already have great results:
"There was one prospect that was interested, but after a while it became silent from their side. With ABM we realised a huge uplift of website visits from more people involved with this prospect, spending also more time on the website and consuming more content. And last week they came back to us and said: 'We are ready to buy'."
Blend learning and practical exercises based on world-class cases
At the B2B Marketing Forum 2017 on March 16th, Christopher Engman will share with us his experience in assisting companies from the 150+ Fortune 2000 during his time at Vendemore. In addition, he will explain his current role at Climeon.
In the workshops that follow, he will use some of the working material he has been using at Climeon on how to get started from nothing and work your way up multiple levels. He will also provide the opportunity to put what you have learned into practice by means of exercises and show how marketing and sales should work together.
Interested? You can still register for the Forum today!
---